Christmas Reindeer
So, we all love Rudolph, but you know you would love him even more if he was made from Chocolate & with the love of little hands creating him for you!

The kids and I are always looking for Christmas craft ideas for the holidays, but with five little ones I am also looking for crafts that are not going to break the bank and are very simple. And, this craft met both those criteria.
May we present to you our Rudolph version: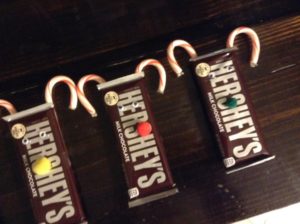 Before you get started here is what you are going to need:
Full size Hershey's bars

Candy canes (we chose the peppermint, but you can choose whichever flavor you prefer)

Googly eyes

Pom-poms in any color you choose (I had planned on using the red, but they chose the other colors)

Glue

Tape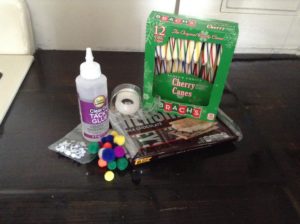 First, I handed each child 1 Hershey's bar, two candy canes, two googly eyes and they chose their pom-pom.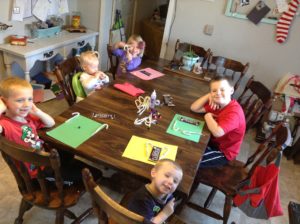 Next, flip over your Hershey's bar and I taped the candy canes to the back of the bar. I found that tape made this process faster, instead of having to wait for the glue to dry.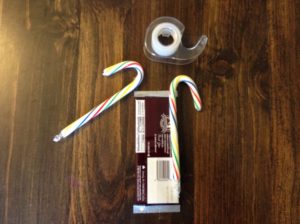 Last, you are going to glue your eyes & nose onto the front of your Hershey's bar. I let the kids pick where they wanted the eyes and nose, which is why some of our reindeer look cock-eyed & their noses are in weird positions.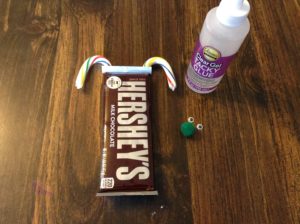 Then, you just let dry. If you have as many little hands as we do in our house, I suggest a tall shelf. 🙂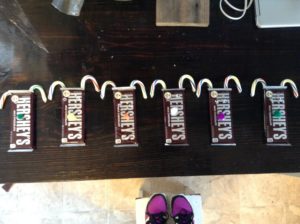 They are just the cutest craft & the kids had so much fun making them for their cousins & friends! I know that our chocoholic Papaw is just going to LOVE receiving one of these gems in his stocking!!!!
If you make your own little reindeer, please post some pictures! We would love to see your creations!!!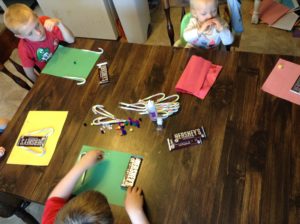 Kraft you later,
Kassy the Homesteading Momma @ Kassy's Krafts